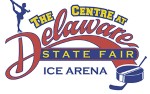 PUBLIC SKATING
Center Ice Arena - Delaware State Fairgrounds, Harrington, DE
---
DESCRIPTION
PUBLIC SKATING RULES
No outside food allowed.
Some public skate sessions will have an ice resurfacing halfway through the ice time. You can return to skating after the zamboni leaves the ice (approx. 10 minutes).
Skaters skate at their own risk; bike helmets are recommended for new skaters and children under 7 years of age. Please bring your own.
Parents are recommended to stay with their children during the session for adult supervision whether or not the parent is skating.
Parents please do not carry your child on the ice. You can hold them up but don't carry them.
Cones or commercially made or homemade "walkers" and any other skating assistance devices are not allowed on the ice during public skating per our insurance provider.
Birthday parties are held during public skating so you may have some children in a party with a small lesson.