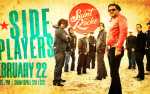 B-Side Players
February 22, 2024 8:00 PM
/ticket/p/92687232/bside-players-hermosa-beach-saint-rocke
02-22-2024 23:00:00
02-22-2024 23:00:00
B-Side Players
SAINT ROCKE
true
MM/DD/YYYY
Doors Open: 7:00 PM
More Information
TICKET PRICES CURRENTLY AVAILABLE
DAY OF: $20.00
GENERAL ADMISSION: $18.00
4-TOP TABLE: $18.00
10-TOP TABLE: $18.00
2-TOP TABLE: $18.00

TICKET SALE DATES
GENERAL ADMISSION / 4-TOP TABLE / 10-TOP TABLE / 2-TOP TABLE Public Onsale: November 2, 2023 11:00 AM to February 21, 2024 11:59 PM
DAY OF Public Onsale: February 22, 2024 12:00 AM to February 22, 2024 11:00 PM

B-Side Players


142 Pacific Coast Hwy,
Hermosa Beach, CA 90254
21+ Only


About the Artist
The B-Side Players are a 9-piece band part of a new movement in popular music. A band that honors the international cross-pollination that has always made music the universal language. They use any beat that catches their ear, regardless of geography or genre, to create a compelling, horn driven, polyrhythmic groove. They continue exploring the multifaceted grooves of Latin America and the Caribbean, incorporating the sounds of Cuba, Jamaica, Mexico and Brazil with the funk, rock, jazz and hip-hop rhythms of their homeland, dropping bits of Cumbia, Salsa, gritty street Samba, Son Montuno, Jarocho and Boogalo into the mix.
The B*Side Players have been laying down their own inimitable latin global funk since they came together in 1994. Their incendiary live shows have defined them as local favorites with 10 San Diego Music awards. Meanwhile their albums showcase a band with restless musical intelligence, effortlessly blending genres to fashion their own forward looking, latin flavored soul music. As an eight piece band the players are known for igniting crowds with their fierce rhythms and uplifting message of unity and consciousness. Meanwhile always keeping their focus on the political climate of the world and nation. The B-Side Players are a living and breathing cultural art experience for the mind body and soul.







For any additional questions, please check out our FAQ page here: https://saintrocke.com/faqs/
If your questions are not answered there, please reach out to us at info@saintrocke.com