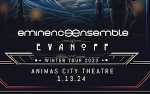 Animas City Theatre
Eminence Ensemble x Evanoff with River Spell
January 13, 2024 8:00 PM
/ticket/p/90938425/eminence-ensemble-x-evanoff-with-river-spell-durango-animas-city-theatre
01-13-2024 22:00:00
01-13-2024 22:00:00
Eminence Ensemble x Evanoff with River Spell
Animas City Theatre
true
MM/DD/YYYY
Doors Open: 7:00 PM
Animas City Theatre Presents
Eminence Ensemble x Evanoff
with special guest River Spell
Saturday January 13th 2024
$18 / $20 / 21+

Eminence Ensemble
Since 2009, Eminence Ensemble has provided people from all walks of life with a sense of community, a safe space for expression, a needed break from the pressures of life, and a thrilling rush of adrenaline through complex, yet digestible music that bridges the gap between the jam-band and more traditional music scenes.
The Colorado-based sextet, comprised of members Tanner Bardin [drums], Nick Baum [vocals, percussion], Wil Snyder [keyboard, synth], Zac Flynn [bass, synth, vocals], Dylan Gleit [guitar, vocals] & Justin Neely [guitar, vocals], has been steadily building their fan-base through explosive live shows featuring a unique conglomerate of genre-blending compositions. The archipelago of sonic worlds put forth by the band features elements of rock, funk, metal, electronic, soul, and hip-hop that together create an intricate foundation to be decorated by exploratory improvisational jams in a unique way, every show.
https://www.eminenceensemble.com
https://open.spotify.com/artist/2gxgPqq1J8gV07X2Q1cIzv


Evanoff
A staple in the Colorado music scene, Evanoff, is a guitar driven live-electronic trio. Defined by a bold live show full of sonic exploration, blending soaring melodies and emotive bass lines. Evanoff continues to be one of the most versatile acts in the ever evolving world of electronic-rock music.
Since 2017, Evanoff has obliterated festival stages all across the country including Electric Forest, Camp Bisco, Hulaween, Resonance, Peach, Joshua Tree, Sonic Bloom, and more.
With another full length album on the way… Evanoff is only just beginning.
https://www.evanoffmusic.com
https://open.spotify.com/artist/5XMQ9F7g4nCx2VCtrnPm7d?si=NVgqx4hpQCW6KtVdgvH7bQ&nd=1&dlsi=6cf726f6005844ad


River Spell

River Spell is a Colorado-based jam band that delivers heartfelt songwriting and extended improvisation. Their timeless, yet innovative sound encompasses elements of folk, rock, funk, psychedelic and bluegrass music.
River Spell formed in the front range of Colorado in the summer of 2022. Since then, the band has been gigging tirelessly and spreading their infectious sound throughout the country. River Spell shows are truly unique and immersive experiences; no show is like the last.
https://www.riverspellmusic.com
https://soundcloud.com/river-spell/sets/river-spell