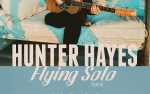 Sherman Theater Presents
Hunter Hayes: Flying Solo Tour
December 8, 2023 8:00 PM
/ticket/p/89898284/hunter-hayesflying-solo-tour-stroudsburg-sherman-theater
12-08-2023 20:00:00
12-08-2023 20:00:00
Hunter Hayes: Flying Solo Tour
Sherman Theater
true
MM/DD/YYYY
Doors Open: 7:00 PM
More Information
TICKET PRICES CURRENTLY AVAILABLE
ADV GA STANDING: $30.00
ADV GA STANDING [MEMBER]: $30.00
ADV BALCONY [MEMBER]: $30.00
THE RED SKY MEET & GREET EXPERIENCE [MEMBER]: $180.00
THE RED SKY MEET & GREET EXPERIENCE: $180.00
THE RED SKY SOUNDCHECK PARTY [MEMBER]: $105.00
THE RED SKY SOUNDCHECK PARTY: $105.00

TICKET SALE DATES
THE RED SKY MEET & GREET EXPERIENCE [MEMBER] / THE RED SKY SOUNDCHECK PARTY [MEMBER] Public Onsale: September 12, 2023 10:00 AM to December 1, 2023 12:00 AM
ADV GA STANDING [MEMBER] / ADV BALCONY [MEMBER] Public Onsale: September 12, 2023 10:00 AM to December 8, 2023 12:00 AM
THE RED SKY MEET & GREET EXPERIENCE / THE RED SKY SOUNDCHECK PARTY Public Onsale: September 13, 2023 10:00 AM to December 1, 2023 12:00 AM
ADV GA STANDING Public Onsale: September 15, 2023 10:00 AM to December 8, 2023 12:00 AM

$30 ADV | $35 DOS
(After 5pm on day of show tickets must be purchased at the door)
All Ages Admitted // 21 to drink with ID
Tickets on sale to the General Public - (9/15/23) 10am
General Admission Standing - there isn't a bad spot in the house!
Reserved Balcony seating available for Sherman Theater Members only
For membership information, please contact
members@shermantheater.com
VIP BOX: Sherman Theater Members $495| Non-Members $575
SKYBOX: Sherman Theater Member $645| Non-Members $725
FOR INFORMATION ON VIP BOXES AND SKYBOXES,
CLICK HERE
Can't make the show?
Donate now to support so we can bring more events like this
!
Multi-instrumentalist and platinum-selling artist Hunter Hayes is an embodiment of the type of musician that embraces change and strives to rewrite the rules. After debuting on the scene with a platinum-certified album, Hayes has charted his own path, moving from his country roots into the genre-bending world that he was destined for. On his album, Red Sky, the singer-songwriter is executing at the highest level of his musical career: crafting memorable melodies and instantly catchy hooks albeit with a top-notch musician's discerning ear. His music is both a reflection of his influences, and a product of his prodigious multi-instrumental talents, reflected by the fact that he plays every instrument on his records. The Louisiana native has garnered over 2 billion on-demand global streams since the release of his debut album, along with six gold and platinum-certified singles. In addition to his legendary headlining shows, Hayes has also toured with superstars like Taylor Swift, Carrie Underwood, and has headlined sold-out shows across the US, Canada, Europe, and Asia. With over 50 award nominations and wins, including five GRAMMY© nominations, Hayes is just getting started.