All Ages Event
Kategory 5
April 1, 2023 8:00 PM
/ticket/p/8695270/kategory-5-milton-milton-theatre
04-01-2023 20:00:00
04-01-2023 20:00:00
Kategory 5
Milton Theatre
true
MM/DD/YYYY
Doors Open: 7:00 PM
More Information
TICKET PRICES CURRENTLY AVAILABLE
INDIVIDUAL: $30.00

TICKET SALE DATES
INDIVIDUAL Public Onsale: December 15, 2022 10:00 AM to April 1, 2023 8:00 PM

Performing the Most Challenging Music from the Classic Rock Era! Playing the music of Yes, Styx, Rush, Boston, and Kansas!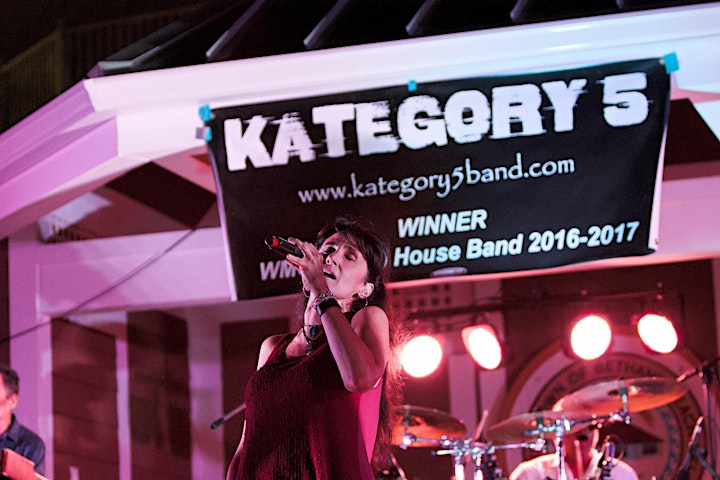 About Kategory 5
Kategory 5 are a classic rock band covering the best of rock, blues, R&B and pop music from the 1970s (give or take a decade). With female and male lead vocals, keyboards and dual lead guitarists, killer bass and drums, Kategory 5 are able to perform the most challenging music from the classic rock era.
Kategory 5 are a 6 pc rock group who play an amazing variety of classic and progressive rock and pop from the 70's and 80's as well as newly written original songs. Formed in 2014 as a 5 pc with Kat, John, Al, Kyle and Chris they quickly realized they needed another guitar player to fill out the complex array of cover songs being played and in 2015 Brian joined the band. Entering and winning the Houseband contest for WMGK 102.9FM Philadelphia in the summer of 2016 quickly catapulted them into the spotlight where they were featured in many of the radio station's big events culminating in their appearance at the BB&T Pavilion in Camden, NJ opening for Joan Jett and Boston. That gig is what ultimately led them to writing and recording their own music. Another big opportunity came with opening for Taylor Dayne and Eddie Money in the summer of 2017 sponsored by Wilmington, DE radio station WJBR 99.5FM. In the early winter of 2017 they started writing songs to be recorded with a release date of November 2018 and this is where the Kategory 5 story is now, writing and recording for their CD release date of November this year. During this time Kategory 5 is performing live shows playing cover songs with original material sprinkled in as each new song comes to life. Their detailed musicianship and dynamic 3 and 4 part harmonies with both male and female lead vocals, layered guitars and keyboards, bring an exacting quality to every performance that you will want to hear again and again.
---
We'll send you an email if tickets become available.
Email: