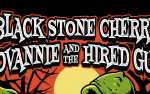 Black Stone Cherry / Giovannie and the Hired Guns
November 7, 2023 8:00 PM
/ticket/p/86294480/black-stone-cherry-giovannie-and-the-hired-guns-billings-the-pub-station-ballroom
11-07-2023 22:00:00
11-07-2023 22:00:00
Black Stone Cherry / Giovannie and the Hired Guns
The Pub Station Ballroom
true
MM/DD/YYYY
Doors Open: 7:00 PM
More Information
TICKET PRICES CURRENTLY AVAILABLE
GA - STANDING: $29.50

TICKET SALE DATES
GA - STANDING Public Onsale: August 25, 2023 10:00 AM to November 6, 2023 11:59 PM

Black Stone Cherry
Kicking the door open into 2023, Black Stone Cherry have revealed a brand-new song,"Out of Pocket. "The song is out now via Mascot Records/Mascot Label Group and is available on all streaming platforms. Out of Pocket" is the band's first new song since the release of their 2020 album The Human Condition and is another trademark rocker from their locker. Emotionally rousing with a roof-raising battle cry chorus, it shows the band at their anthemic best. The lifelong friends Chris Robertson, vocals/guitar; Ben Wells, guitar/vocals; and John Fred Young, drums, welcome their new bass player Steve Jewell on his first studio recordings, having slayed the stages with them over the past two years. Over the past two decades, the Kentucky Southern rockers have shaken stages from arenas to festivals across Europe, bringing the good times every time. In 2021 they fulfilled a lifetime ambition of playing London's iconic Royal Albert Hall, bringing an incredibly emotional and powerful performance. Now it's time to blow the roof off those arenas once again.


GIOVANNIE AND THE HIRED GUNS
One of the most crowd-thrilling bands to burst onto the national scene in recent years, Giovannie and The Hired Guns have pushed the boundaries of rock-and-roll and country to forge an irresistibly gritty sound all their own. After building a massive grassroots following on the strength of their explosive live show, the Stephenville, Texas-based five-piece ascended to new heights with their smash hit "Ramon Ayala"—a 2021 release that climbed to #1 on the Active Rock Radio Chart and the Alternative Radio Chart, marking the first time in over 15 years that an artist's first career-charting radio single reached the top spot on both tallies. Fueled by the enormous success they've achieved as an entirely independent act, Giovannie and The Hired Guns have now signed to Warner Music Nashville just in time for the release of their third full-length, Tejano Punk Boyz: an immediately vital body of work cementing their status as an essential new force in redefining the possibilities of Texas music.



Etix is the ONLY authorized ticketing agent outside of the Pub Station box office. If you purchase tickets from an unauthorized agent in the secondary market (scalper, ticket broker, eBay, Craigslist, etc.), you risk purchasing counterfeit or invalid tickets which may result in refusal of admission.