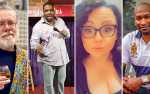 18+ Event
May Flowers Bring May Laughter: A Springtime Stand-Up Comedy Special
May 5, 2023 8:00 PM
/ticket/p/7738730/may-flowers-bring-may-laughtera-springtime-standup-comedy-special-milton-milton-theatre
05-05-2023 20:00:00
05-05-2023 20:00:00
May Flowers Bring May Laughter: A Springtime Stand-Up Comedy Special
Milton Theatre
true
MM/DD/YYYY
Doors Open: 7:00 PM
More Information
TICKET PRICES CURRENTLY AVAILABLE
INDIVIDUAL: $14.00
OBSTRUCTED VIEW: $14.00
MEMBER DISCOUNT: $12.60

TICKET SALE DATES
INDIVIDUAL / OBSTRUCTED VIEW / MEMBER DISCOUNT Public Onsale: February 3, 2023 10:00 AM to May 5, 2023 8:00 PM

Spring is finally here, and what better way to celebrate than by joining us for our May Stand-Up Comedy Special!



Headliner: Steve Young
Website | Facebook | Youtube
STEVE YOUNG is an Emmy-nominated comedy writer who's written for David Letterman, Matt Groening, and Lorne Michaels. He's also done feature punch-up, written musical comedy lyrics, and won WGA and Annie Awards. His weird record collection inspired the critically-acclaimed documentary Bathtubs Over Broadway, and Amblin is developing a feature from a book he wrote. Steve loves combining his comedy chops with long-form storytelling, and combining gin with tonic. Here are a few highlights.

Feature: Gene Norris
Facebook | Youtube | Instagram
Gene Norris brings a dynamic energy to the stage with a style that spectators will mimic long after his performance. "Laughter is contagious, pass it on".
Feature: Chica Loca
Facebook
From Brooklyn, NY. 2nd Place Finalist in ExploreDE Comedy Competition. Voted Best Rising Star in Delaware
Host: Keith Purnell
Website | YouTube | Facebook

Keith is one of the fastest rising comics from Delaware. He's a high energy performer whose quick wit, style, and fast pace humor make him a hit and personal favorite of audiences young and old. He performs at Comedy Clubs across the country and has appeared on Television and in Movies. He was a winner in the Howard Stern "Kill or Be Killed" Comedy Competition and was the Philadelphia Regional winner in the Sierra Mist Next Great Comic Comedy Competition. Keith has had appearances on Last Comic Standing and is gaining a reputation as the next rising star!