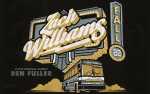 Zach Williams
Awakening Foundation Events
More Information
TICKET PRICES CURRENTLY AVAILABLE
INDIVIDUAL: $204.25 / $130.25 / $74.25 / $44.25 / $34.25 / $24.25 / $18.00
VIP: $204.25
NORMAL: $54.25
ADA: $44.25 / $34.25 / $24.25

TICKET SALE DATES
INDIVIDUAL / VIP / ADA Public Onsale: May 13, 2022 12:00 PM to October 14, 2023 7:00 PM
NORMAL Public Onsale: September 11, 2022 9:20 PM to October 14, 2023 7:00 PM

This performance has been rescheduled.

Join Zach Williams for a night of music and ministry that will fill your heart and have you singing along all night long! Grammy award winner Zach Williams and his signature blend of southern rock, country and faith-filled songwriting are truly unlike anything else in Contemporary Christian music today. Zach can't wait to bring the this tour to your city, will you be there?

*Lineup subject to change.

VIP Exclusive Eat & Greet Experience:
Enjoy an amazing meal and make a difference in your local community! World-renowned chef Paul Fields will be crafting a gourmet dinner that you will never forget! This exclusive VIP Eat and Greet experience includes:
One (1) entry to pre-show VIP Eat & Greet full-course gourmet dinner prepared by professional chef Paul Fields
Meet Zach Williams and get your picture taken with him*Premium concert seating
Early access to merch shopping
Commemorative VIP tour laminate
Gift bag
For each ticket sold a food box will be given to a local family in need. Each box provides enough food to feed a family of four for an entire week.
* If health and safety guidelines change, a Question & Answer session may be substituted.

This is a very limited offer. Join us for this exclusive VIP experience! Must arrive by 5:00pm.


All Awakening Events / Awakening Foundation programs follow local health and venue requirements as it relates to Covid-19. These may include but are not limited to vaccine and/or testing requirements and face coverings. Local Health & Venue guidelines are subject to change at any time. Changes in local Covid-19 health guidelines or Venue Policies are not grounds for a refund. Thank you for your understanding and please know that we take the health and safety of our guests, our employees and our community very seriously.

Advertised price does not include convenience fees.
No Refunds. No Exchanges.