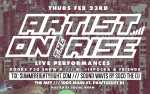 SUMMER88 presents "Artist On The Rise" with music by SOCO THE DJ and hosted by SOCIAL NORM & SPOCKA SUMMA
February 23, 2017 8:00 PM
/ticket/p/7513295/summer88-presents-artist-on-the-risewith-music-by-soco-the-dj-and-hosted-by-social-norm-spocka-summa-pawtucket-the-met
02-23-2017 20:00:00
02-23-2017 20:00:00
SUMMER88 presents "Artist On The Rise" with music by SOCO THE DJ and hosted by SOCIAL NORM & SPOCKA SUMMA
The Met
true
MM/DD/YYYY

More Information
TICKET PRICES CURRENTLY AVAILABLE
INDIVIDUAL: $13.00

TICKET SALE DATES
INDIVIDUAL Public Onsale: December 27, 2016 8:00 PM to February 23, 2017 6:30 PM

Join us for a night of performances by up & coming rappers, singers, producers from all around the country.

This event is GENERAL ADMISSION.

*If you have any difficulty in processing your order, please contact the venue box office (401)331-1005 or Etix 1(800)514-3849 during their hours of operation.

**If you are unsure if your order went through, please check the email address you provided for a confirmation from Etix before duplicating your order.