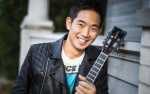 Jake Shimabukuro
October 10, 2019 8:00 PM
/ticket/p/6996285/jake-shimabukuro-salem-elsinore-theatre
10-10-2019 23:00:00
10-10-2019 23:00:00
Jake Shimabukuro
Elsinore Theatre
true
MM/DD/YYYY
Doors Open: 7:00 PM

More Information
TICKET PRICES CURRENTLY AVAILABLE
ALL AGES: $61.00 / $51.00 / $41.00
HAMLET SOCIETY: $61.00 / $51.00 / $41.00

TICKET SALE DATES
ALL AGES / HAMLET SOCIETY Public Onsale: May 24, 2019 10:00 AM to October 10, 2019 4:00 PM

Almost everyone in Hawaii has strummed a ukulele at one time or another. But at the age of 14, Jake Shimabukuro realized that he was doing something a little different with the four-stringed instrument - OK, a lot different.

Shimabukuro's wholly unique approach to the ukulele started early. As a youngster growing up in Honolulu, Hawaii, Shimabukuro started playing the instrument at the age of four, learning the basics from his mother, Carol, and then developing his craft further by studying the likes of musical masters such as Eddie Kamae, Ohta-San and Peter Moon. As he matured, Shimabukuro also found inspiration from guitar players, drummers, pianists, and singers. Even athletes helped fuel the intensity of his artistic fire.

Shimabukuro's records have topped the Billboard World Music Charts on numerous occasions, and as a live performer he has become one of the hottest tickets around. He's played with world-renowned orchestras and at prestigious venues such as the Hollywood Bowl, Lincoln Center and the Sydney Opera House, and has dazzled audiences at music festivals including Bonnaroo, SXSW, the Playboy Jazz Festival and Fuji Rock Festival. He even performed for that rarest of audiences: Her Majesty Queen Elizabeth II. Not too shabby for a humble young man from Hawaii and his trusty ukulele.

Along with his tremendous professional achievements, Shimabukuro's personal life is filled with riches: He's a loving husband and proud father of two boys. While balancing career with family, he also remains firmly rooted in his commitment to community, frequently performing at schools in Hawaii and overseas, urging youngsters to find their passion and live drug-free.

Purchase Accessible Seats