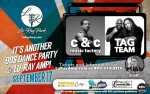 C+C MUSIC FACTORY & TAG TEAM
September 17, 2021 7:00 PM
/ticket/p/6346729/cc-music-factory-tag-team-central-city-luray-amphitheater
09-17-2021 20:00:00
09-17-2021 20:00:00
C+C MUSIC FACTORY & TAG TEAM
Lu-Ray Amphitheater
true
MM/DD/YYYY
Doors Open: 5:30 PM

More Information
TICKET PRICES CURRENTLY AVAILABLE
DAY OF RED POD: $218.00
RED POD: $198.00
GOLD POD: $278.00
DAY OF GOLD POD: $298.00
GA1: $59.00
GA2: $39.00
DAY OF GA1: $69.00
DAY OF GA2: $49.00

TICKET SALE DATES
RED POD / GOLD POD / GA1 / GA2 Public Onsale: May 20, 2021 8:00 AM to September 16, 2021 11:00 PM
DAY OF RED POD / DAY OF GOLD POD / DAY OF GA1 / DAY OF GA2 Public Onsale: September 16, 2021 11:00 PM to September 17, 2021 10:00 PM

Friday, September 17, 2021, iconic '90s Artists C+C MUSIC FACTORY and TAG TEAM will headline a "'90s Dance Party" concert. Special guest, DJ SHAY, will open the show. It would be difficult, perhaps impossible, to imagine a list of 90's hits without C&C Music Factory and Tag Team at or near the top. Smash hits like "Gonna Make You Sweat," "Whoomp! There It Is," and, "Things That Make You Go Hmmm," are staples of the Dance & Pop music genres. They have become part of the Hip-Hop & Dance musical fabric and still relevant today.

Tickets may be purchased as VIP reserved tables for 4 people or as 2-person GA tickets Prices range from $19.50 to $69.50 per person. Capacity is limited. Fans are encouraged to purchase tickets ASAP.

Groups of 4 (for 4-person reserved pods / tables) and pairs (for 2-person lawn tickets) MUST arrive at gate at the same time for entry into venue. One ticket is valid for either 4 or 2 people, respectively.