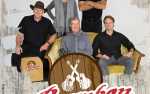 BOURBON COUNTRY
January 12, 2024 8:00 PM
/ticket/p/56140583/bourbon-country-crystal-lake-raue-center-for-the-arts
01-12-2024 21:00:00
01-12-2024 21:00:00
BOURBON COUNTRY
Raue Center For The Arts
true
MM/DD/YYYY
Doors Open: 7:30 PM
More Information
TICKET PRICES CURRENTLY AVAILABLE
RAUENOW ADULT: $24.50 / $21.00 / $18.90
STANDARD ADULT: $35.00 / $30.00 / $27.00
VETERANS: $0.00

TICKET SALE DATES
RAUENOW ADULT / STANDARD ADULT / VETERANS Public Onsale: November 21, 2023 12:00 PM to January 12, 2024 7:00 PM


BOURBON COUNTRY
Friday, January 12, 2024 @ 8:00 PM
Standard Price: $27/$30/$35
Member Pricing: $18.9/$21/$24.50


Bourbon Country is a popular band that delivers a unique blend of country and classic rock music. Their music is influenced by a variety of artists spanning different genres, from Johnny Cash, Garth Brooks and Chris Stapleton to the Eagles, Elton John and Van Morrison.. The band's lineup includes seasoned music professionals who have been entertaining audiences across Chicagoland and Wisconsin since 2012. If you're a fan of country and classic rock music, don't miss this amazing band!
The band includes: Randy Leggee, Jody and Paul Fields, Wade Frazier, and Jim Seidel.
------
Don't forget to become a RaueNOW Member to save up to 30% on 2 of your tickets!
Tickets are non-refundable and non-exchangeable.
Etix, our ticketing agent, charges a $3 per ticket fee to process the ticket purchase in their system. The $6 facility fee is a per-order fee that supports the maintenance of Raue Center's historical venue. Raue Center is recognized by the League of Historic American Theatres and the facility fee helps support the upkeep of the theater, and provides for various free events and initiatives in our community like our Veterans program which allows veterans to see shows for free throughout the year!
For more information please visit rauecenter.org
Box Office | boxoffice@rauecenter.org | 815-356-9212
Raue Center For The Arts
is a 501(c)3 non-profit organization dedicated to enriching the lives of all through the arts.