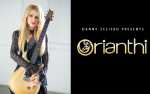 Danny Zelisko Presents
ORIANTHI
February 4, 2024 7:30 PM
/ticket/p/55738869/orianthi-phoenix-celebrity-theatre
02-04-2024 21:30:00
02-04-2024 21:30:00
ORIANTHI
Celebrity Theatre
true
MM/DD/YYYY
Doors Open: 5:30 PM
More Information
TICKET PRICES CURRENTLY AVAILABLE
REG:
Ticket Price: $95.00
Fees: $23.75
Order fees: $0.00

Ticket Price: $65.00
Fees: $18.57
Order fees: $0.00

Ticket Price: $35.00
Fees: $13.38
Order fees: $0.00

Ticket Price: $25.00
Fees: $11.65
Order fees: $0.00


TICKET SALE DATES
REG Public Onsale: November 20, 2023 10:00 AM to February 4, 2024 9:30 PM

Platinum-selling recording artist and world class guitarist, Orianthi has announced the upcoming release of her new studio album, "Rock Candy" on October 14, 2022. The release follows 2020's studio album, "O", which, at the time, was her first new studio album in seven years and her first new music as a solo artist in six years. Sonically, "Rock Candy" is a hard rockin', blues tinged, display of Orianthi's dazzling guitar playing and her soulful vocals. Today, fans can enjoy a new single and music video, 'Light It Up' from the album. Watch the music video HERE: https://youtu.be/iqOeugCxxVk

Orianthi's first major solo artist success, as a singer-songwriter and guitarist, was with the Geffen Records release of "According To You," which is now RIAA-Certified Platinum® and has over 29 million streams on Spotify. Her music's ability to transcend time and remain relevant cannot be more clear than its recent resurgence on TikTok. There are over 110 million views on the "According to You" hashtag making it a viral trend that is introducing Gen Z to Orianthi for the first time in a big way. Career-long fans are used to seeing their favorite world class guitarist playing arenas with rock royalty and global superstars like Michael Jackson, Carlos Santana, Carrie Underwood, Alice Cooper and more. The juxtaposition of her newly arrived online popularity and her lifelong pursuit of artistic credibility shows the transcendence of this shining star.
This performance is in the forward-facing, proscenium configuration. The stage will NOT rotate.
Smoking and vaping, of any kind, are not permitted inside of Celebrity Theatre.
This is an all-ages show.
Parking can be added to your ticket order and paid for upon check out, otherwise parking is $10 cash only day of show.
Please adhere to our Clear Bag Policy:

Clear plastic, vinyl or PVC bags (max size: 12" x 6" x 12")
Small clutch bags approximately the size of a hand (max size: 4.5" x 6.5")