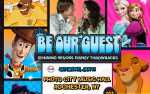 After Dark Presents
Be Our Guest: The Disney DJ Night
January 13, 2024 9:30 PM
/ticket/p/50547847/be-our-guestthe-disney-dj-night-rochester-photo-city-music-hall
01-13-2024 21:30:00
01-13-2024 21:30:00
Be Our Guest: The Disney DJ Night
Photo City Music Hall
true
MM/DD/YYYY
Doors Open: 8:30 PM
After Dark PresentsBE OUR GUEST: The Disney DJ Night

Spinning 90s/00s Disney Throwbacks!
Age Restriction:
21+ Admitted with ID
Disney Lovers, 90s Kids, or anyone who just wants to "Let It Go…": You're officially invited to BE OUR GUEST.
Experience the magic while we spin your fave Disney tracks. Get ready to drunkenly sing your heart out to "Circle Of Life," "Under The Sea," and "Zero to Hero." Don't worry – we're also throwing in the classics from the iconic Mouseketeers: Britney, Miley, Jonas Brothers, Demi, and more. If they were on the Disney channel, they're on our DJ panel.
Let's get Bippity-Boppity-Boozed up with specialty drinks for those bold enough to try a poisoned apple. We can't promise your prince will awaken you from your slumber but it will most definitely knock you out.
Costumes encouraged! Bring your prince charming, evil queens, and fairy godmothers. You'll want to make this a part of your world.