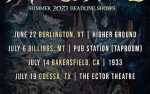 Rivers of Nihil
July 6, 2023 8:00 PM
/ticket/p/5036442/rivers-of-nihil-billings-the-pub-station-taproom
07-06-2023 22:00:00
07-06-2023 22:00:00
Rivers of Nihil
The Pub Station Taproom
true
MM/DD/YYYY
Doors Open: 7:00 PM
More Information
TICKET PRICES CURRENTLY AVAILABLE
GA - STANDING: $15.00

TICKET SALE DATES
GA - STANDING Public Onsale: April 18, 2023 10:00 AM to July 5, 2023 11:59 PM

Reading, Pennsylvania's Rivers Of Nihil have never fit neatly into a box, but with 2018's Where Owls Know My Name, they transcended all labels applied to them. Returning in 2021 with The Work, they have forged further into new territory, delivering an album that is as cerebral as it is visceral, and that covers a staggering sonic range, definitively placing them in a category of their own.
With the first track penned in the fall of 2018, while the band were touring Owls, the writing process for the album was long, lasting well into 2020. Even before the music industry shutdown that happened concurrently with the Covid pandemic, the band intended to take most of 2020 off to focus on writing, meaning that their schedule was not disrupted. However, even with the whole album demoed out musically, they were not initially sure what they were working with. "We didn't really know if it was all going to connect together in any kind of logical or interesting way. It wasn't until we got the vocals done that it was clear what we had on our hands: something that actually somehow all worked together," says guitarist Brody Uttley, who describes the album as a "Sound World," a term coined by a friend. "It's an album that almost sounds like a place rather than a thing. It puts you in this world where you're not exactly sure what is going on at certain points, but eventually, it all comes together. It's harsh and cold, but also warm and inviting," he adds.
While The Work is a very dense, inarguably heavy collection, it is far too dynamic to consider it solely a metal record, and there is a genuine warmth that shows through, particularly on "Wait" and the gorgeous "Maybe One Day," and the band have included far more clean vocals alongside the screaming that tears through many of the heavier tracks. Adds Biggs, "It spans a lot of different styles, ideas, and emotions. The twists and turns are pretty drastic for your modern day metal record. There's a lot of what you already know we do, and a lot of what you've never heard us do before."
While there is a central concept driving the album, Biggs elects to keep the specific details to himself so that listeners can relate to it in their own way, but he explains where the title comes from. "What does life all really boil down to in the end? You can be lovey-dovey about the good times, and savor the sweetness that life sometimes provides, but beneath everything is work, struggle, someone is always getting a raw deal, someone's always sweating it out in the mines somewhere so you can enjoy your diamonds. This has always proved true in everything I've ever done in life. Most people reading this know me as a member of a successful band, but beneath it is constant work. Physical, emotional, spiritual work. All the time. Every day. And I know that it's like this across the board for just about anyone in at least some capacity, so I figured this subject would be relatable to a lot of people."
There's no denying that the finished product is something unique and marks the beginning of an exciting new chapter for Rivers Of Nihil, though Biggs states he has never gotten anywhere by thinking about the future of the band. "We always just sort of do this thing and it grows. I guess that could change at some point. But thinking about things that way doesn't seem to get me anywhere either. Better to focus on the work in front of us, as it turns out," he adds, referencing the album's title. "If we've learned anything for certain in the last year or so, it's that the future can be murky, we're not really owed anything, and it can all be taken away any second. But for now, we press on."