Presented By: Valley Liquors
Creed Fisher
April 27, 2024 8:00 PM
/ticket/p/38083162/creed-fisher-mtvernon-the-obt
04-27-2024 20:00:00
04-27-2024 20:00:00
Creed Fisher
The OBT
true
MM/DD/YYYY
Doors Open: 7:00 PM
More Information
TICKET PRICES CURRENTLY AVAILABLE
PREFERRED TABLE: $65.00
EARLY DISCOUNT PROMO: $25.00
BALCONY SEATED FRONT ROW: $85.00

TICKET SALE DATES
PREFERRED TABLE / EARLY DISCOUNT PROMO / BALCONY SEATED FRONT ROW Public Onsale: November 10, 2023 10:00 AM to April 27, 2024 11:00 PM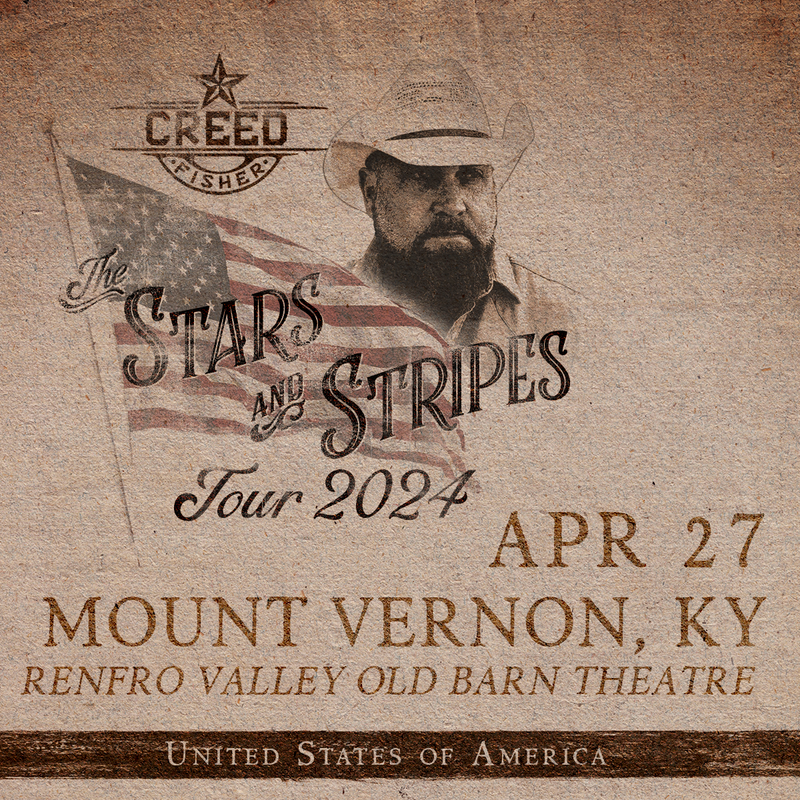 Creed Fisher at The OBT (Formerly called The Old Barn Theater). 18+
All tickets are general admission standing except for a limited number of VIP tables for 4.

Sometimes the best feel-good music is born from pain. Country music's rebellious sensation Creed Fisher knows it well, tracing his musical, and personal evolution back to a very unlikely, yet specific point of origin - a little blue house. No, it's not a metaphor, but a real place, and one decorated by hard times and a few bad memories. "It's starting from rock bottom," he says of the symbolism. "That's what the blue house represents in my mind." While the ghosts of that dark period are something he'll never forget, Fisher didn't let his energy get trapped in the past, instead choosing to recognize, process and move forward. All of it served him well in overcoming life's little kicks in the ass, and along the way, delivering albums full of ass kicking good times and chart-topping hits.
He does however credit those days for reigniting the creative fire within and leading to a bold and unconventional career ascension. "That eight years was the beginning of my struggle; the beginning of my music." The little blue house, traumatic as it was, had a purpose in the greater developing picture of the man and the music he creates. After his thirteen-year marriage collapsed, then thirty-three-year-old Fisher had to start over. "I was poor as fuck," he recalls, "but I bought the blue house in Odessa. It was shithole but it was mine." Then things seemed to get even worse, perpetuated by self-sabotage. "I kept screwing up," he admits." Getting DWI's, getting thrown in jail, being on probation for 18 months, all while I was in the blue house." As if that weren't enough to break one's spirit - another stint in the slammer. "I refused to quit smoking weed and told my officer it was my medicine. But then I ended up back in jail." Creed Fisher was battered, but certainly not broken. "I straightened out."
Influenced heavily by the wisdom of his grandfather and the musical tastes of his parents (from classic country to hard rock, George Straight to Ted Nugent), Creed Fisher's childhood dream was to play music, but, as he asserts - "Life got in the way. I started writing songs just for therapy, to get things off my chest," he says of the cathartic beginnings. "My music started in a dark place, but it developed from there." Reflecting on an unconventional entrance into the music business, he says "The odds were always against me." From the get-go, Fisher's maturity, attitude and a blue-collar background didn't parlay easily into a scene largely ruled by young people, where social networking protocol was the law.