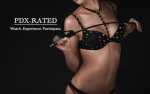 PDX Rated AUGUST Edition
August 4, 2017 9:00 PM
Doors Open: 9:00 PM

More Information
TICKET PRICES CURRENTLY AVAILABLE
VIP 21+: $15.00

TICKET SALE DATES
VIP 21+ Public Onsale: July 10, 2017 6:32 PM to August 3, 2017 11:59 PM

PDX-Rated is Portland's premier, clothing-optional party. We are a Body, LGBTQIPA, Sex, and Kink Positive team with the goal of creating an inclusive environment for all to enjoy. Performances on the main stage. Dancing and vendor(s) on the main floor. Private bar and play lounge with dungeon furniture upstairs. Watch. Experience. Participate. At PDX-Rated you can be your "other self."

All-Access VIP:
- Music & Dancing
- Live Stage Performances
- Private Play Lounge
- Upscale Dungeon with DMs & Tastings

Standard Access available at the door.

A consent form is required to be signed prior to entry.

No picture taking allowed by attendees once inside the venue doors. Tape will be provided at check-in to cover the camera lens of all mobile devices.

Please remember to use a towel or sheet as a barrier between you and the furniture. Towels are provided or you may bring your own. Cleaning supplies are stationed throughout the venue for your post-play usage.

Consent matters. Do not verbally or physically cross boundaries without explicit permission from all persons involved.

If an unfortunate issue arises please do not hesitate in contacting the DMs or club management. They are there to help and maintain a safe environment for all.

* 21 & over with valid photo ID *

Doors open at 9pm.