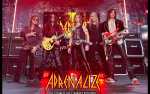 ADRENALIZE Def Leppard Tribute
August 19, 2023 8:00 PM
/ticket/p/3335434/adrenalize-def-leppard-tribute-new-hope-the-new-hope-winery
08-19-2023 20:00:00
08-19-2023 20:00:00
ADRENALIZE Def Leppard Tribute
The New Hope Winery
true
MM/DD/YYYY
Doors Open: 7:00 PM
More Information
TICKET PRICES CURRENTLY AVAILABLE
INDIVIDUAL: $40.00

TICKET SALE DATES
INDIVIDUAL Public Onsale: March 10, 2023 6:06 PM to August 23, 2023 8:00 PM

WHEN ORDERING, EACH BLUE DOT REPRESENTS ONE OPEN SEAT AND ONE TICKET.

Example: If you want a table for 4 people, you click on four blue dots. If you want two seats, you click on two blue dots.


Drawing their name from Def Leppard's fifth studio album (which debuted at No. 1 on both the UK Albums Chart and the U.S. Billboard 200), ADRENALIZE – The Ultimate Def Leppard Experience recreates the chart-topping, chest-thumping anthems that made Def Leppard the iconic and dominant force in arena rock of the '80s and beyond.
You'll hear the hook-laden radio and MTV mega-hits like "Foolin'", "Rock of Ages," "Photograph," "Hysteria," "Rocket," "Animal," "Armageddon It," "Love Bites," and "Pour Some Sugar On Me," along with deep cuts like "Wasted," "High 'n' Dry," and "Switch 625!"
Def Leppard, inducted into the Rock and Roll Hall of Fame in 2019, is one of the world's best-selling music artists, having sold more than 100 million records worldwide. They also hold the honor of being the top UK hard rock touring act, grossing $514 million worth of tickets since July 1980. This places them as the highest UK rock band earner in the last 42 years ahead of Iron Maiden.
No rock band epitomized the spirit of the '80s more than Def Leppard. Fusing the hard edge of heavy metal to a melodic pop sensibility, the British rockers dominated that decade with two classic albums- 1983's Pyromania and 1987's Hysteria- whose massive sales were fueled by the band's near-constant presence on MTV.
See the road tested and accomplished stage performers of ADRENALIZE – The Ultimate Def Leppard Experience embody the swaggering, electrifying stage personae of the Lads from Sheffield, and their undeniable intensity will captivate you and leave you singing, fist pumping, and screaming for more!
ADRENALIZE members are:
George Tsalikis: Lead Vocals
Damiano Christian: Guitar & Vocals
Jef Scarfi: Guitar & Vocals
Lenny Lee: Bass & Vocals
Lee Nelson: Drums & Vocals