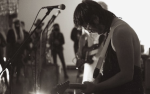 Headkicker / The Hourglass Kids / North by North / Boy Named Sue
August 7, 2022 8:00 PM
/ticket/p/3008272/headkicker-the-hourglass-kids-north-by-north-boy-named-sue-durham-the-pinhook
08-07-2022 20:00:00
08-07-2022 20:00:00
Headkicker / The Hourglass Kids / North by North / Boy Named Sue
The Pinhook
true
MM/DD/YYYY
Doors Open: 7:30 PM
More Information
TICKET PRICES CURRENTLY AVAILABLE
ADVANCED: $10.00
DAY OF: $12.00

TICKET SALE DATES
ADVANCED / DAY OF Public Onsale: June 13, 2022 12:11 PM to August 7, 2022 8:00 PM

Headkicker: Headkicker's intense yet eclectic sound glides elegantly between several different punk styles and scenes. Opening track "The Law" is built around a sinister bass riff, the song's punk rock snarl recalling Hank Wood & the Hammerheads' garage bounce, while "Future" is a furious pogo tailor-made for Raleigh's chaotic basement shows. Standout track "Televise" recalls classic 77 punk bands like the Saints and the Damned with its meaty, driving riff and infectious chorus hook, and the pop jangle of "Crafty" serves as a respite from the non-stop intensity. Through all the subtle variations in style, Headkicker's confident playing and the EP's crisp, warm production keep the energy level in the red, just where you want it to be. Like the best bands from Raleigh's long tradition of punk and hardcore, Headkicker stitches the best parts of their inspirations into a sound that sounds classic yet wholly their own.

The Hourglass Kids: Psychedelic rock from Raleigh

North by North: Garage Rock from Chicago

A Boy Named Sue: Boy Named Sue is a three-piece alternative rock band from Raleigh, North Carolina. Dusting off the footprints left by NC legends like Archers of Loaf, Superchunk, and Sorry About Dresden, BNS looks to provide energy that is raw and direct. Their name is derived from the '62 Shel Silverstein gem about inherent challenges that cut away, but sharpen you. Boy Named Sue's debut LP "The Way I Was" will be released independently on September 3rd, 2021 via suenamedboy.com and all streaming platforms.