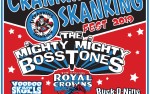 The Mighty Mighty Bosstones - The Cranking & Skanking Fest 2019
August 10, 2019 6:00 PM


More Information
TICKET PRICES CURRENTLY AVAILABLE
ADVANCED: $37.50

TICKET SALE DATES
ADVANCED Public Onsale: May 31, 2019 12:00 PM to August 10, 2019 12:00 AM

An outside festival in The Met's Courtyard.

Lineup: Mighty Mighty Bosstones, The Amazing Royal Crowns, Voodoo Glow Skulls, Buck-O-Nine

This event is GENERAL ADMISSION.

*If you have any difficulty in processing your order, please contact the venue box office (401)331-5876 or Etix 1(800)514-3849 during their hours of operation.

**If you are unsure if your order went through, please check the email address you provided for a confirmation from Etix before duplicating your order.