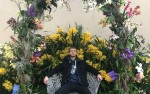 Mister Goblin (mems 2" Astronaut + Speedy Ortiz) Album Release w/ Pet Fox & Kid Claws
December 20, 2019 8:00 PM
/ticket/p/2626784/mister-goblin-mems-2astronaut-speedy-ortizalbum-release-wpet-fox-kid-claws-washington-pie-shop
12-20-2019 20:00:00
12-20-2019 20:00:00
Mister Goblin (mems 2" Astronaut + Speedy Ortiz) Album Release w/ Pet Fox & Kid Claws
Pie Shop
true
MM/DD/YYYY
Doors Open: 7:30 PM

More Information
TICKET PRICES CURRENTLY AVAILABLE
ADVANCED: $10.00
DAY OF: $12.00

TICKET SALE DATES
DAY OF Public Onsale: December 20, 2019 12:00 AM to December 20, 2019 7:00 PM
ADVANCED Public Onsale: September 23, 2019 11:36 AM to December 19, 2019 11:59 PM

Doors at 7:30 | Show at 8
Advance $10 | Day of $12
All ages

Mister Goblin is the solo moniker of Sam Woodring, former singer/guitarist of Wheaton, MD's Two Inch Astronaut. Titled in honor of a nickname given to him by a former student, the new project is liberated from the 'big rock' confines of his old band, and is generally less loud and more compassionate. He tries to make each song about one thing, and sometimes he does not succeed. Live, he performs solo or if we're lucky with a band featuring members of Spring Silver, Brnda, and Speedy Ortiz.