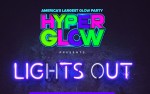 Hyperglow: Lights Out! Fall 2017 Tour | America's Largest Glow Party
September 16, 2017 8:00 PM


More Information
TICKET PRICES CURRENTLY AVAILABLE
BALCONY GA: $22.00
GA_FLOOR_TIER1: $37.00

TICKET SALE DATES
GA_FLOOR_TIER1 Public Onsale: August 1, 2017 12:00 PM to September 16, 2017 12:00 AM
BALCONY GA Public Onsale: August 1, 2017 12:00 PM to September 16, 2017 7:00 PM

This event is GENERAL ADMISSION in a venue with TWO DISTINCT & SEPARATE FLOORS. You MUST buy a FLOOR ticket to be allowed on the Floor level; BALCONY TICKET HOLDERS WILL NOT BE ALLOWED ON THE FLOOR.

GA FLOOR ($37 - Tier 1 | $42 - Tier 2): First-come, first-served standing on the ground floor.

GA BALCONY ($22): First-come, first-served SEATING ON THE SECOND FLOOR BALCONY level. Customers with GA BALCONY tickets will NOT be allowed on the GA FLOOR level.

Hyperglow Tour - America's Largest Glow Party!
Presents: LIGHTS OUT! Fall 2017 Tour

LIGHTS OUT, and the night begins… This season Hyperglow Tour will give their fans a new experience that will take you through a journey of darkness into Glow! The Lights Out Tour will allow you to abandon your worries and step into a wild party as we get lit with thousands of people from all over the nation. Assemble your squad, Charge Up, and bring your own light into the darkness of Hyperglow!

Hyperglow Tour "America's Largest Touring Glow Party" is growing into a one a kind Electronic Dance Music production and promotions company. Combining high-energy dance music with mind blowing Performances, Live Art, and Body Painting which is enhanced by an atmosphere illuminated in Ultra Violet Glow. Hyperglow Tour features some of the world's most renowned dance music talent, in conjunction with leading-edge production and sound design, ready to glow America one city at a time.
br> MORE INFO: www.HYPERGLOWTOUR.com

JOIN OUR VIP TEXT LIST! - Text the word PROVIDENCE to 64600br>br> *If you have any difficulty in processing your order, please contact the venue box office (401)331-5876 or Etix 1(800)514-3849 during their hours of operation.

**If you are unsure if your order went through, please check the email address you provided for a confirmation from Etix before duplicating your order.