Package Name:
Thanksgiving Sale
Venue:
Event Begin Date:Sunday, April 8, 2018 12:00:00 AM
Event End Date:Sunday, April 8, 2018 12:00:00 PM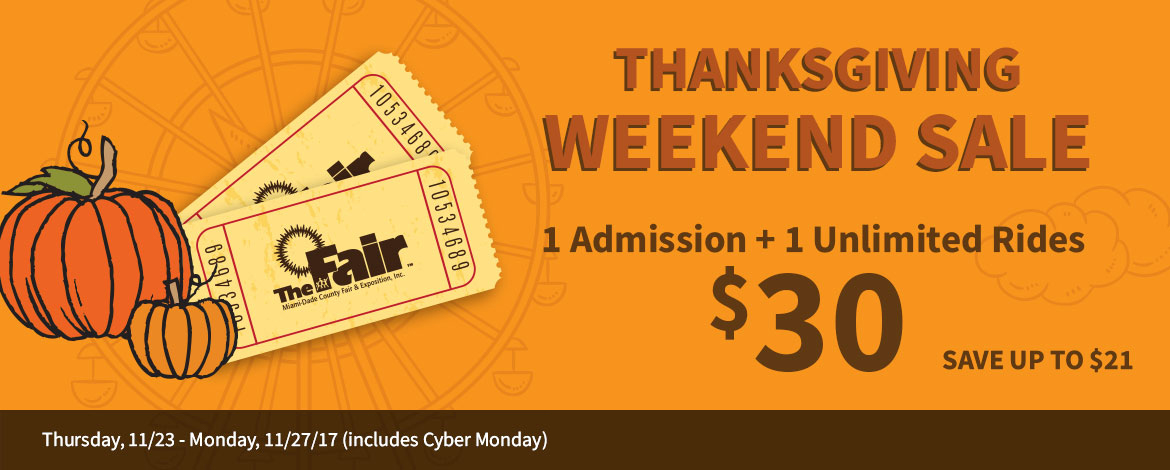 TICKETS ARE VALID ANY DAY OF THE 2018 YOUTH FAIR
March 15 to April 8, 2018 Open Daily Except March 19-20 & April 2-3
Magic Money is a digital ticket system held on a Magic Money Wristband, using an RFID chip. Magic Money Wristbands are reusable and reloadable, so you can enjoy them throughout The Fair this year and for years to come! Reload your wristband using the Magic Money app., Magic Money Kiosks or Stations located throughout the fairgrounds.
Tamiami Park (Coral Way & SW 107 Avenue). Our Home Since 1972.
---
ADVENTURE AWAITS at the 2018 Youth Fair!
Enjoy a variety of concerts and 21-day entertainment for all ages, delight with delicious foods, experience thrilling rides, witness the South Florida's premier horse shows, events and competitions at the Barn, stop by the Garden to see a walking tree and much more!
PACKAGE CONTAINS:
1 (one) Youth Fair General Admission Ticket
Valid for admission any day of the 2018 Youth Fair for ages 6 to 64. Ages 5 and under and 65 and older are FREE.
1 (one) Unlimited Ride
Valid for unlimited rides ANY one day of the 2018 Youth Fair (not valid during school field trips).
Prices valid ONLINE ONLY.
There is a 5-ticket limit per customer.
Online ticket sales are restricted to billing addresses with either a Miami-Dade, Broward, Monroe or Palm Beach County zip code only. If you are interested in purchasing tickets from a different area, please email dnelson@fairexpo.com
A photo ID is required when redeeming tickets purchased on Fairexpo.com & etix.com. Name on ID must match the name printed on the ticket confirmation and on the credit card used for purchasing.
ENJOY THE YOUTH FAIR!