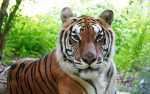 July 29, 2023 - International Tiger Day Tours
Carolina Tiger Rescue, Pittsboro, NC
---
DESCRIPTION
Join the Carolina Tiger Rescue Team (and tigers) to celebrate International Tiger Day! All day long we'll have games, food, and fun!

While the activities are open to all, tour tickets are required to visit the cats. Your tour, led by trained volunteer tour guides, will take you on a half-mile walk through the Carolina Tiger Sanctuary and be within 6 feet of beautiful cats such as tigers, lions, caracals, and cougars. Your tour guides will introduce you to each animal you see along the way and share with you their individual stories. Get a glimpse into their lives and histories and learn how your daily choices impact the future of these beautiful and powerful predators.

In addition to your tour, you're invited to join in on the other festivities, including fun activities for kids of all ages, face painting, ice cream treats, and more! Arrive early or stay late and treat yourself to lunch! We're excited to announce that Pittsboro's very own Handcrafted Food Truck will be on-site, serving up mouthwatering delights from 11:00-4:30.

Get your tour tickets today and get ready for a fun day that's all about celebrating the biggest cat on the planet - the tiger!

MINOR CHILDREN

Visitors under 18 years of age must have a Carolina Tiger Rescue release form signed by a parent. If the child will not have a parent present, please download our Minor Release, fill it out, and bring the signed release. No other permission slips/releases will be accepted. The release cannot be signed by another adult. An adult must accompany minors. https://carolinatigerrescue.org/wp-content/uploads/Combined-Minor-Release-2016.pdf

TOUR DETAILS

• Tours are expected to sell out – so get yours today!
• Tickets are required for the tour, but not the activities
• All non-tour activities are free to the public, except the food truck
• 1.5 - 2-hour walking tour
• Rain or shine
• $18 for ages 13+, $12.50 for ages 4-12, and Free for ages 0-3 (reservation still required)
• Maximum of 25 people per tour
• Accessibility vehicle available on the 9:30 AM, 11:30 AM, and 1:30 PM tours.