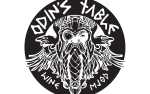 2023 Odin's Table Wine Tasting
Odin's Table - Presented by Haak Wines, Sante Fe, TX
---
DESCRIPTION









"Lift Thy Glasses!"
ODIN'S TABLE is back with a completely new and unique Texas Wine Tasting experience, and one fit for the Gods.
Brought to you by Haak Wines, the Official Wine Sponsor of the 2023 Texas Renaissance Festival, and curated by their knowledgeable staff, and possibly even Odin himself, you will taste through 5 very distinct Haak wines:
The Haak Mjod, a Mead-style white wine created to mimic the flavor of Old Norse Mead
The Muninn, a semi-sweet, full-bodied white wine, Co-Branded with TRF
The Huginn, a bold, full-bodied red wine, Co-Branded with TRF
Blanc du Bois Madeira, a unique style of fortified wine, barrel-aged in a heated "estufa"
Renaissance Series Jacquez Madeira, another version of our Madeira using red grapes
You can expect this tasting to be visually stunning, interactive, educational, entertaining, and includes a commemorative, ergonomic wine glass with TRF and Haak logos, yours to keep.
Chocolate will be served with the final Madeira wine, but no other food is provided in the tasting. You are welcome to bring in your own food.
To provide a Private Tasting Experience, Odin's Table will be closed to non-ticketed patrons during the designated Tasting Times.
Outside the Private Tasting Times, Odin's Table will welcome all patrons of the Faire to enjoy glass and bottle sales.
The Wine Tasting is $30/person
This is a 21+ event
Well-behaved minors accompanied by a parent or legal guardian are permitted to attend but may have to stand depending on seat availability.
Tickets are non-refundable but could be transferred to other time-slots if seats are available.