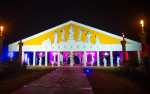 2023 The Knight's Club - SATURDAY (Please Choose a Date
Texas Renaissance Festival (The Knight's Club), Todd Mission, TX
---
DESCRIPTION
Queen's Birthday Inaugural Weekend Ball-Saturday, Oct 7th
Join us for the inaugural show of the 2023 season! Meet some of our performers, make new friends, dance the night away and experience a show that features Drag, Aerial, and Burlesque for a feast that feeds your senses! When the Faire ends, the real party begins! Garb for the evening: Come dressed in your favorite faire attire and wear your dancing shoes!
House of Fantasy Drag Show and Ball-Saturday, Oct 14th
Witness the magic and majesty that is the House of Fantasy! Our enchanting queens and kings for the evening traveled from far away realms to bring their best looks to the ball, and expect you to turn a look as well. Garb for the evening: Enchantresses, nobles of the courts, faeries, pixies, elves, djinn, and all magical creatures of the realm will be celebrated! Bring your best look and enter our costume contest.
The Salty Mermaid Pirate Burlesque Show- Saturday, Oct 21st
Ahoy, mateys! Set sail on the high seas for a raucous night of debauchery as the Knight's Club is taken over by pirate wenches and sea creatures! Our burlesque will leave you saying, "Shiver me timbers!" Is the pirate life for you? Of course, it is! Garb for the Evening: Calling all sea witches, mermaids, privateers, scallywags, bilge rats, wenches, and peg-legged pirates! Our captain for the evening expects all sea creatures and pirate factions onboard. The best pirate crew wins a special prize!
The Ritual- Saturday, Oct 28th
A night of spine-tingling witchcraft, seductive burlesque performances, and frightening creatures of the dark! Our spookiest weekend. Garb for the Evening: This is a night to raise the dead! Dress in your Halloween looks. Witches, goblins, ghouls, skeletons, necromancers, zombies and really anything evil will be welcome.
Magic Masquerade- Saturday, Nov 4th
Dance and Dream at the Sorcerer Queen's Masquerade Ball alongside nobles traveling from distant realms. From mystic fae royalty to goblin kings, to ancient elven heiresses, the world of fantasy comes together to witness the rare wonders and enchantment of the high fantasy court. Will you be crowned the High King or Queen of the ball? Garb for the Evening: Dress in your most elegant royal attire! Venetian style masks encouraged for our nobles. The most enchanting creature of the evening shall be crowned King or Queen of the ball!
The Hall of Heathens-Saturday, Nov 11th
The barbarian horde and their menagerie of skilled warriors and entertainers take over the Knight's Club for a night featuring burlesque, drag kings, and feats of strength! Our horde also accepts barbarians, ogres, demons, centaurs, and other mighty creatures. Garb for the Evening: horns, furs, leather, and hooves. The Barbarian Horde cannot be stopped! Join us!
Mushroom Rave-Saturday, Nov 18th
High Fantasy Ball-Saturday, Nov 25th