TICKET PRICES CURRENTLY AVAILABLE
CLUB SEATING: $26.00
BABY GRAND MEMBERS ONLY: $20.80
TICKET SALE DATES
CLUB SEATING / BABY GRAND MEMBERS ONLY Public Onsale: January 27, 2021 11:58 AM to March 25, 2021 10:00 PM
PERFORMANCE DESCRIPTION
Craft cocktails and small plates begin at 6:00 pm.
Seating includes the club & patio and is first-come at the door. Only Baby Grand Members qualify for preferred seating. Learn more about Middle C Jazz memberships.
Rodney and Eric do duets! Presenting iconic duets like 'Ain't No Mountain High Enough' famously recorded by Tammi Terrell and Marvin Gaye. You're invited to all-night fun at Middle C!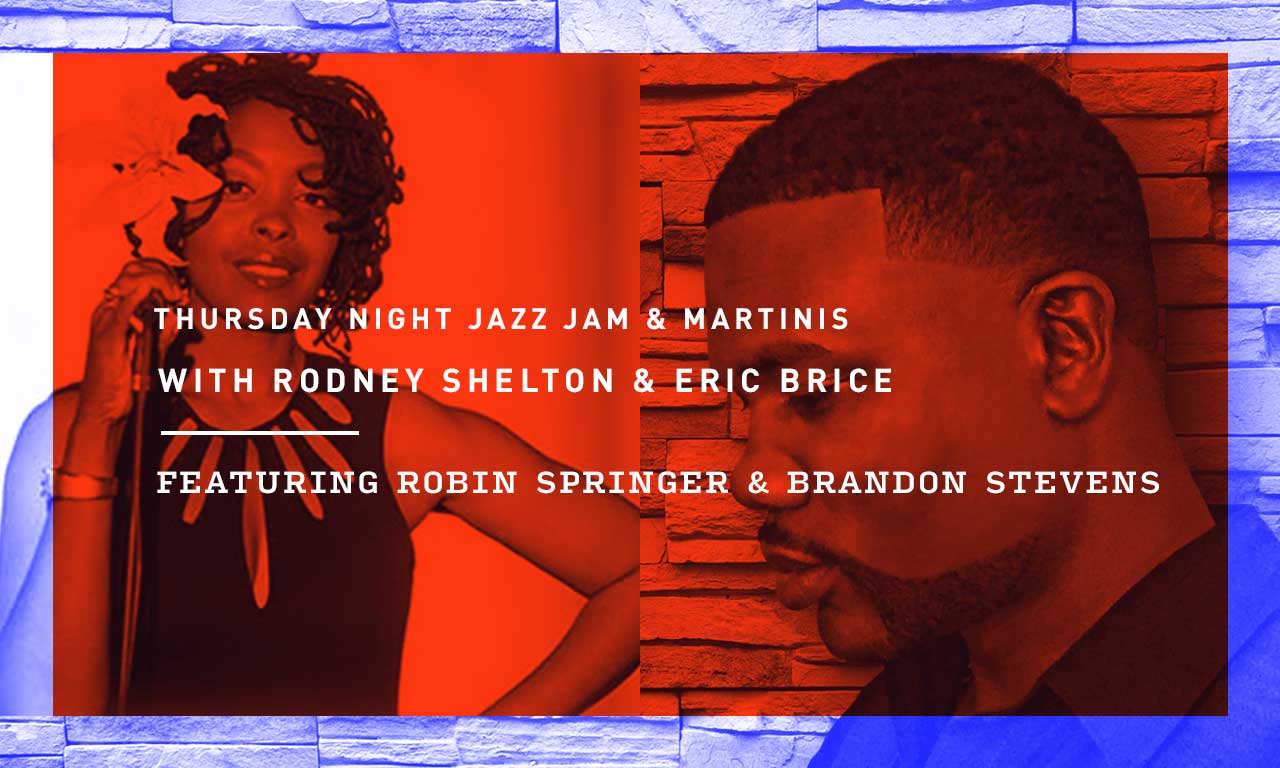 ROBYN SPRINGER
Robyn Springer is a professional vocalist whose richly diverse musical background includes a debut R&B solo album (Makin' Moves, Virgin Records/ Cardiac); featured vocal performances on albums by such artists as contemporary jazz saxophonist Najee to Fugees' alternative/rapper John Forte; and various live tours from London to Greece to New York, where she appeared with such legends as George
Benson, Herbie Hancock, and Kirk Whalem. A native of New York City, Springer has recorded on such labels as Atlantic, Transparent and Verve/ Forecast. Springer, a first-alto, boasts a versatile and sultry style known to transport audiences from church pews to Delta juke joints to downtown jazz cafes. Her latest album, The Acoustic Project, is an eclectic collaboration with guitarist and songwriter Greg Cagle.
BRANDON STEVENS
Brandon Stevens, a South Carolina native, is a smooth Soul/R&B crooner in the tradition of artists like Luther Vandross, Marvin Gaye, and Brian McKnight. He began performing while an undergrad at Winthrop University in Rock Hill, SC, as well as singing, writing, and co-producing records that were independently released. Brandon formed the band Mellogroove with two fellow Winthrop alumni In 2004, and in 2019, they were recognized as a Historic Rock Hill Musical Group. He is also a member of the legendary Detroit Soul group Chairmen of the Board, with a 2017 album and two UK tours with the band under his belt.
RODNEY SHELTON
Music Is His Gift. Rodney "Keys" Shelton is the quiet storm in the music industry. Rodney began his career at the tender age of 13. Deriving from humble beginnings as a native of Martinsville Virginia, Rodney started his own band and while performing at schools and local clubs, he landed his first gig opening for artists "Betty Wright and King Floyd".
While pursuing a degree at Johnson C. Smith University in Charlotte, North Carolina, Rodney continues to develop his gift of music. Unwearingly in his work ethic, the young Rodney Shelton started touring the east coast with the showband "Time Square" and only after a few years of touring, Rodney moved into his calling as a songwriter/producer creating hundreds of songs for signed artist.
In the early 90's after meeting with the Legendary Music promoter/manager "Howard Rosen", that Rosen encounter lead to another encounter with the Legendary producer Stewart Levine and Jolie Jones (daughter of Quincy Jones) in king a production deal.