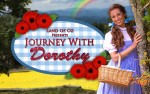 Journey with Dorothy
Land of Oz, Beech Mountain, NC
---
DESCRIPTION
Fridays Sold Out. Limited June 26th, 27th tickets available.

*Note: Tickets are still available, please allow the calendar to the right to load for a list of available time slots.

Skip down the yellow brick road through the Land of Oz™ with Dorothy as your guide!
Journey with Dorothy is an interactive experience where guests have the opportunity to play one of the characters from the classic story. What fun for the whole family to see Dad "Putting 'Em Up" as the Cowardly Lion or Grandma cackling like the Wicked Witch of the West. During this event, you just don't watch Oz, you're a part of it!
Parking and Check-In is located at the Beech Mountain Resort (www.beechmountainresort.com)
Shuttle buses from parking area to Oz are included in your ticket price.
OR
Get a bird's eye view of Beech Mountain when you ride the Lift up to Oz!
Lift tickets are an additional $10 and can be purchased online or at check-in the day of your tour. Please review restrictions before purchasing. (www.beechmountainresort.com/summer/scenic-lift-rides/)
Please arrive to Beech Mountain Resort approx. 1 hour prior to your tour time to ensure your entrance to Oz.
No Refunds. Tours will continue to operate rain or shine.
Please be aware that Lifts are run, maintained, and managed by Beech Mountain Resort, and are not directly associated with Land of Oz or its affiliates. The addition of the lift is to enhance the visitor experience.
Guests are chosen at random to play the characters on their guided tour. Participating as a character is not required and roles can be exchanged if requested. The only costumed characters at Journey with Dorothy are Dorothy, the Wizard, and Miss Gulch. If you are interested in meeting the entire cast, please consider Autumn at Oz.