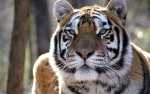 Daytime Public Tour
Carolina Tiger Rescue, Pittsboro, NC
---
DESCRIPTION
Have you ever wondered what it takes to care for more than 50 exotic carnivores? Are you interested in learning about the challenges and dangers that wild cats face under private ownership and in their natural environments? Do you want to know how you can help? Then join Carolina Tiger Rescue for a tour you won't soon forget. On a tour led by trained volunteer tour guides, you'll take a half-mile walk through the Carolina Tiger Sanctuary and be within 6 feet of beautiful cats such as tigers, lions, caracals, and cougars. Your tour guides will introduce you to each animal you see along the way and share with you their individual stories. Many resident animals have been rescued from roadside zoos, backyards, basements, and lives of exploitation at the hands of entertainment facilities. Today they thrive in large outdoor enclosures, receive a healthy and natural diet, get plenty of enrichment, and are cared for by knowledgeable professionals. Get a glimpse into their lives and histories and learn how your daily choices impact the future of these beautiful and powerful predators.

MINOR CHILDREN

Visitors under 18 years of age must have a Carolina Tiger Rescue release form signed by a parent. If the child will not have a parent present, please download our Minor Release, fill it out, and bring the signed release. No other permission slips/releases will be accepted. The release cannot be signed by another adult. An adult must accompany minors. https://carolinatigerrescue.org/wp-content/uploads/Combined-Minor-Release-2016.pdf

TOUR DETAILS

Available dates for tickets are shown on the calendar in white. Gray dates indicate days when tours are not offered or are already sold out. Tours tend to sell out approximately 7-14 days in advance.
Advance tickets are required for all attendees
Tours are offered Fridays, Saturdays, and Sundays year-round
1.5 - 2-hour walking tour
Rain or shine
$18 for ages 13+, $12.50 for ages 4-12, and Free for ages 0-3 (reservation still required)
Maximum of 25 people per tour
Tickets are available 8 weeks in advance